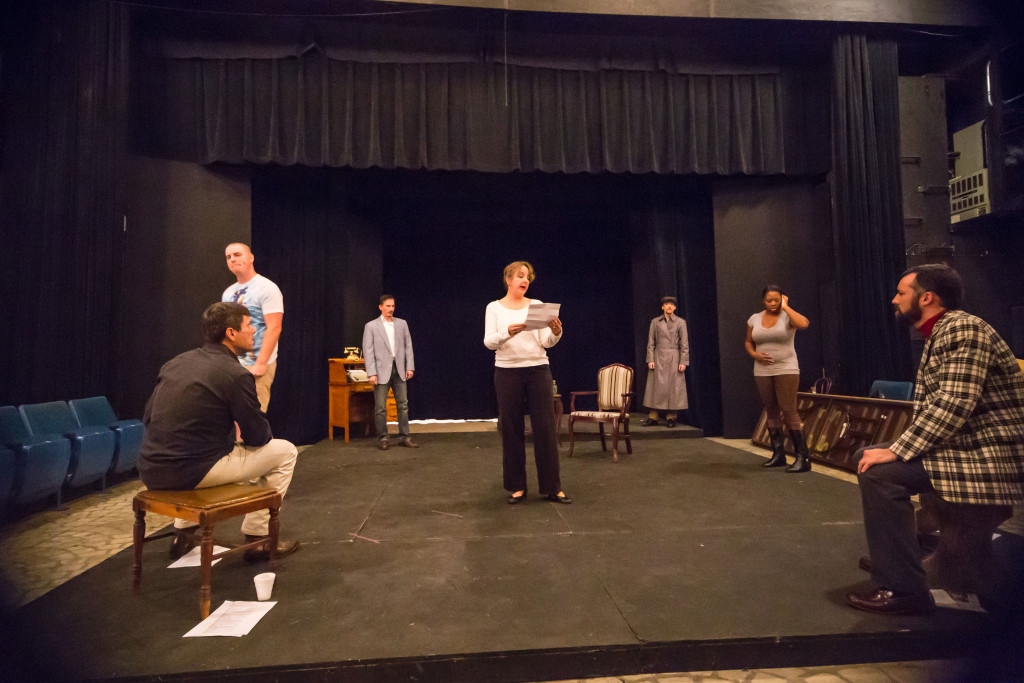 An empty Broadway stage is the setting for Waterworks Players' next play that opens on October 16th, a haunting production of D. D. Brooke's Rehearsal for Murder, based upon the television play of the same name by Richard Levinson and William Link.
Alex Dennison, a playwright, has gathered together in a theatre, the actors, producer, director, and others connected with the show for the first reading of his new play. We discover that everyone was involved with another play by the same playwright. At its opening night, exactly a year ago, and in the same theatre, the beautiful leading lady, who was also the playwright's fiancée, was murdered.
Greg Tsigaridas is cast as Alex Dennison, the distraught Broadway playwright seeking to prove the murder of his fiancée that was ruled a suicide. Sherri Davenport plays Alex's love interest Monica Welles, the rising movie star seeking to legitimize her acting career by starring in a Broadway play who seemingly jumps to her death on opening night.
Alyssa Mangold will play the role of Sally Bean, Alex's young assistant who is bright, idealistic, and in the Big Apple for the first time. Brandon Nuckols, as the nerdy Lloyd Andrews, directing Alex's play. Leigh Lunsford, cast as the elegant Bella Lamb, is the show's producer.
Billy Tucker as Ernie, the theatre's maintenance man, and Caitlin de Cristoforo as Loretta, the stage manager. Brittni Cogdell and Jordan Whiley play actors Karen Daniels and David Mathews. The cast of fourteen also includes Josh Davis (Leo Gibbs), Jeff Bardwell and Wendy Marzloff (police officers), Don Blaheta (man in the auditorium), and J.R. Schipper (Mr. Santoro).
A gripping thriller directed by Chris Klinger, the Waterworks Players' production of Rehearsal for Murder is set to send shivers up your spine.
Make reservations now to attend Rehearsal for Murder. Performances are at 8:00 pm on October 16, 17 and October 23, 24. Tickets are $10. You can obtain tickets by visiting the web site: https://waterworksplayers.org or calling the box office at 434-392-3452.