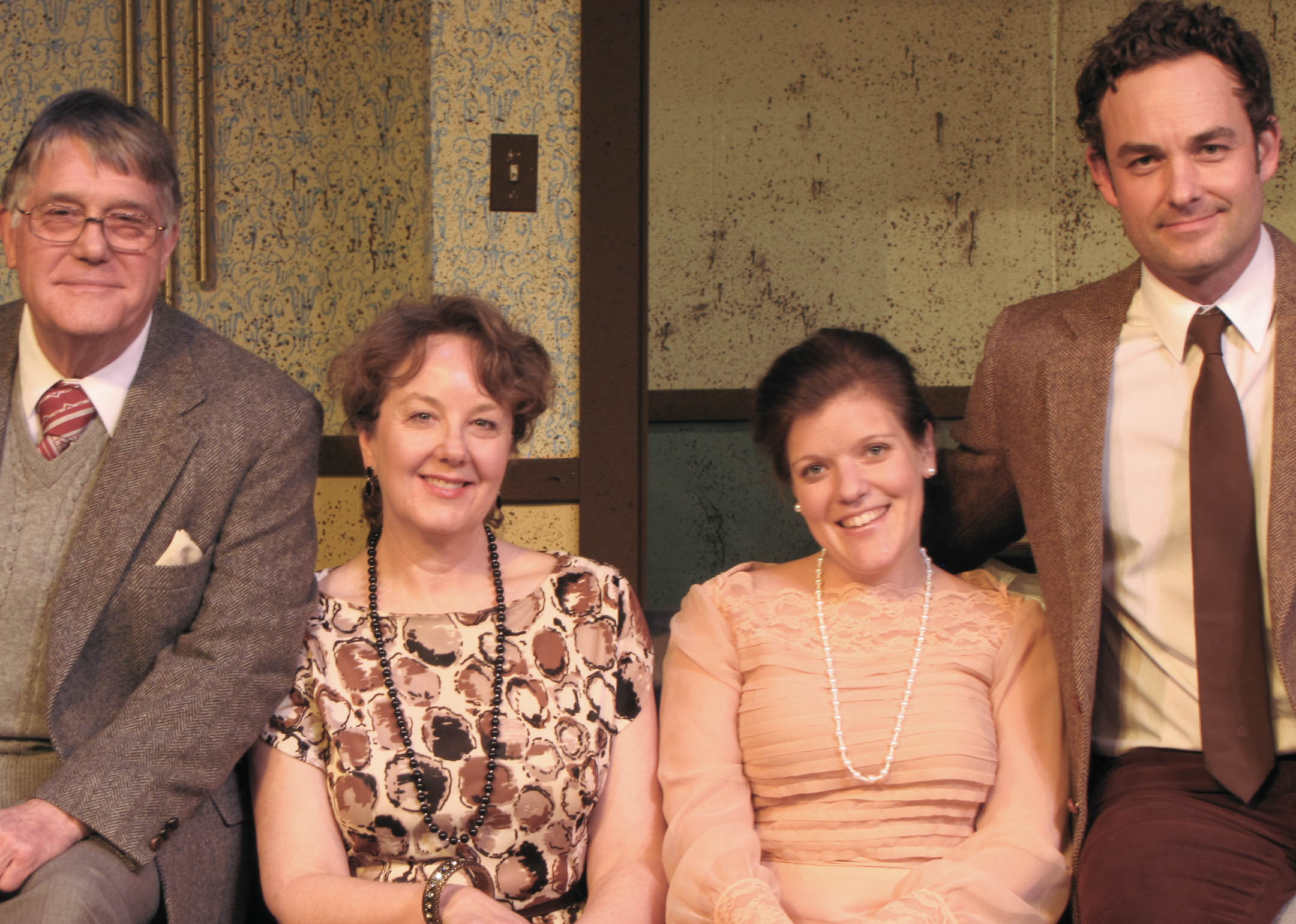 Area actors Craig Challender and Leigh Lunsford will join Richmond artists Happy Mahaney and Hunter Parker in the next Waterworks production of Edward Albee's iconic work "Who's Afraid of Virginia Woolf?" "This play," states Director Dudley Sauve, "is a challenge to stage not because the original Broadway production won both the 1963 Tony Award and the 1962-63 New York Drama Critics' Circle Award for best play, nor due to the five Oscars earned by the 1966 movie with Elizabeth Taylor and Richard Burton; rather the work challenges actors to think and explore the motives and minds of complex characters. After all, this is the work that defined the genre of the psychological drama."
Craig Challender is cast as George, a member of the history department at New Carthage University and married to Martha in what was once a loving relationship that is now frequented by acrimony. "This work so enthralled me as an undergraduate that I skipped class to read it," said Challender, "as it was new, different, and nothing I'd seen before." Now that he is an English professor at Longwood, Challender has taught this play numerous times. "Being on stage, however, is different than being behind a podium. It's a welcomed challenge that forces me to rediscover mental muscles to portray a man with a brilliant mind, yet feels disempowered and lashes out at others through sarcasm."
Leigh Lunsford, who spars with Challender as Martha, is a familiar face to southside audiences for her numerous productions including "Cabaret", "Miss Saigon", "The Full Monty", "Almost Maine", "Painting Churches", and "Cinderella". Lunsford states that, "George and Martha know just how to push each other's buttons with my character having an acid tongue and a quick, sometimes malicious mind. When George mentions the couple's son, my character quickly flies into orbit."
Happy Mahaney returns to the Waterworks stage after a twenty years absence to tackle the challenging role of Nick, a new member of the biology faculty at New Carthage University and colleague of George. During his time away from Virginia, Mahaney traveled the country in the second national "MAMMA MIA!" tour, taught in the Young Actors Project in California, casted in programs of the former WB Television Network, and roles in several movies including "Boo", "Hollywood Kills", and "I Hate Musicals". "My character Nick is from the Midwest", notes Mahaney, "who is ambitious and looking to climb up in the world, not unlike most persons my age." Married to Honey, Nick is confident, focused on his future, and the power of science.
Hunter Parker makes her Waterworks' debut as Honey, the petite, mousy, and anxious wife of Nick. Prior to moving to Virginia, Parker resided in Hartford, CT as a resident teaching artist for the Hartford Stage. In Richmond, she served as a former Director of Education Training at the School of the Performing Arts in the Richmond Community (SPARC). "Playing Honey is challenging my acting muscle as I generally direct shows than being a character," states Parker. Honey lives in a dream world in which she suffered a hysterical pregnancy. Further, she has a weak stomach and prefers to avoid issues. "For me, I'm having to think about a range of issue from the time period the play was set to the characters' words," notes Parker, "what are they saying and what isn't spoken, there is a lot going in the minds of everyone on stage."   
"While Who's Afraid of Virginia Woolf?" is thought-provoking and deals with controversial topics," says Director Sauve, "it also holds your attention like the unpredictability of a reality show as people go after each other.  Albee has done a superb job of creating a dialog full of suspense." 
Be sure to see "Who's Afraid of Virginia Woolf?" Tickets are $12. Performances are at 8:00 pm on February 12, 19, and 20. There is also a 2:00 pm matinee on February 13. Tickets can be purchased by going to theWaterworks' web site: https://waterworksplayers.org/  or calling the theatre at 434-392-3452.