Vanya and Sonia and Masha and Spike, Christopher Durang's award-winning 2013 comedy, will open The Waterworks Players' 2016-17 season. The cast includes four longtime veterans of the Waterworks stage and two relative newcomers.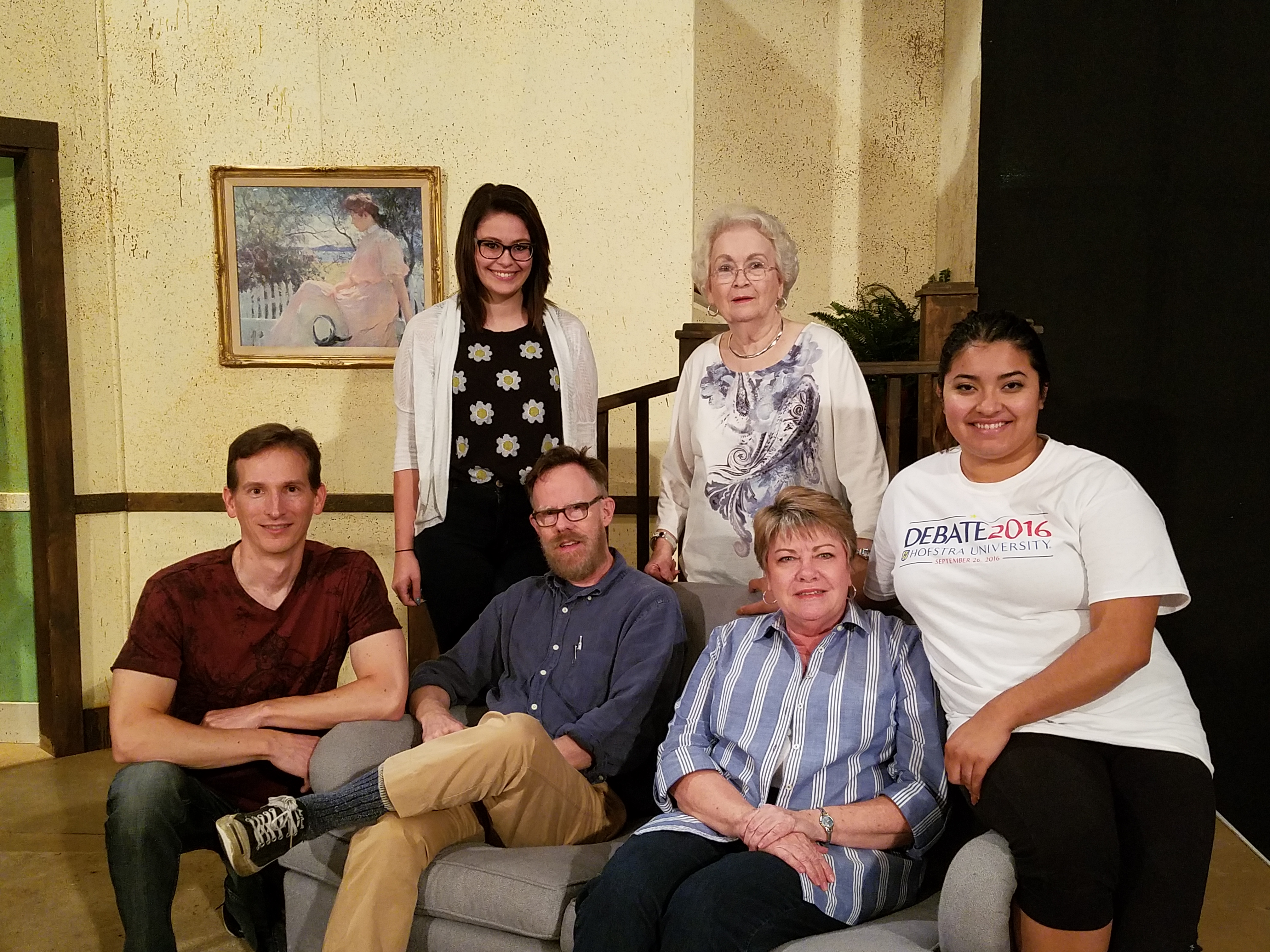 Ed Kinman, Martha Womack and Daphne Mason are Vanya, Sonia and Masha respectively. They play three middle-aged siblings whose fraught relationship is a classic case of arrested development—comedic dysfunction with more serious undertones, especially from Anton Chekhov's Three Sisters and The Cherry Orchard. Greg Tsigaridas is Spike, the oft-married Masha's much younger lover who's more attached to his splendid physique than to her. Miriam Loya is Cassandra, Sonia and Vanya's cleaning woman, who like her mythical namesake makes dire predictions that no one believes. Caitlin Mazura plays Nina, an aspiring young actress who's a threat, both romantically and professionally, to Masha.
As Vanya, Kinman is happy to return to the Waterworks stage after several technical and behind-the-scenes roles. As a faculty member in the Environmental Studies program at Longwood University, Ed shares Vanya's concern for climate change.
Both Womack and Mason, current and retired English teachers at Fuqua School, are longtime favorites of the Farmville theatre community. They have played opposite each other in numerous Waterworks productions, most memorably in The Kitchen Witches and Arsenic and Old Lace. As Sonia and Masha, they're delighted to be "feuding" once more.
By day, Tsigaridas is a system administrator in Longwood's Information Technology area; but at night he is making his 11th appearance with Waterworks as Spike. As a "techie," he never dreamed he would be playing such a "free-spirited" character.
Loya is a Communication Studies major at Longwood. As Cassandra, she is making her second appearance in a Waterworks production; last spring she was Jack's Mother in Into the Woods.
Mazura, a recent Longwood graduate, is making her Waterworks debut appearance as Nina. She is delighted to get her start with this show.
Vanya and Sonia and Masha and Spike will run October 14th, 15th, 21st and 22nd. Three other plays make up the rest of Waterworks' 2016-17 season: Beauty and the Beast (the Waterworks holiday pantomime show), December 2nd, 3rd, 9th and 10th; Legally Blonde the Musical, March 31st, April 1st, 7th and 8th; and And Then There Were None, August 4th, 5th, 12th and 13th.
Tickets for Vanya are $12, on sale now at www.waterworksplayers.org.