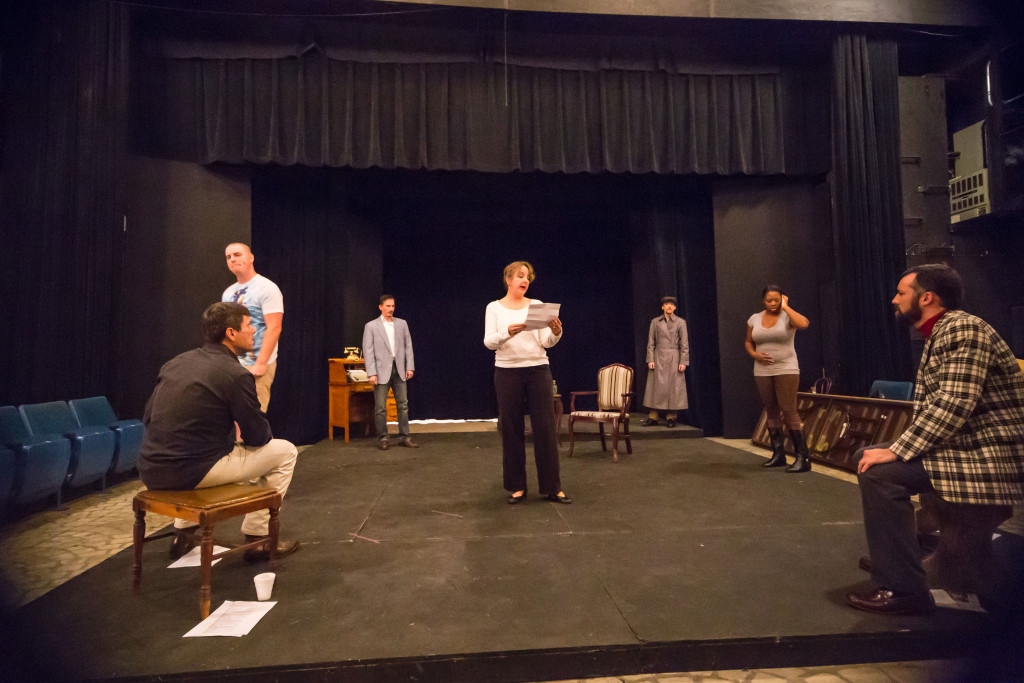 Rehearsal for Murder, an inventive, droll whodunit presented by the Waterworks Players, opens in Farmville on Friday, October 16 at 8:00 p.m. at the Waterworks Theatre and continues through next weekend.  First produced as a 1982 CBS movie starring Robert Preston and Lynn Redgrave, the production is based on the teleplay by Richard Levinson and William Link. Helmed by seasoned off-Broadway director Chris Klinger, the show features witty repartee and a sexy '70s-style vibe, as well as an intrepid mix of veteran actors and energetic newcomers.
Mark Limvere-Robinson summaries the story at imdb.com: "A noted playwright [played by the dexterous Greg Tsigaridas] is devastated by the apparent suicide of his fiancée, a famous film actress [Sherri Davenport], after her Broadway début in one of his plays.  On the first year anniversary of her death, he arranges a reunion of cast and crew from that fateful opening night.  He asks them to read for parts in his new play, but in reality he believes that his fiancée was murdered, and that someone at the rehearsal is the killer."
The production is everything the community has come to expect from the Waterworks Players: spirited, compelling, well-staged, and well-rehearsed. Tsigaridas, mixing moments of affection and tenderness with flashes of anger and paranoia, portrays the lovesick lead character with dogged pluck. Leigh Lunsford shines as well-heeled producer Bella Lamb, a role that takes full advantage of her darling obstreperousness.  And Longwood University student Brittni Cogdell is mesmeric as Karen Daniels, an exasperated and underutilized stage actress with dreams of making it big.
With a minimalistic set design, audiences will be charmed by several careful details in this production. Scott Chapman and Mary Jo Stockton's well deployed sound and lighting effects help frame a series of inventive flashback scenes and fantasy sequences.  Charming costuming–designed by Linda Rofe, Beatrice Oyler, and Maureen Harris– effectively embraces all the sartorial calamity of the 1970s, from corduroy blazers and plaid jackets to cheesy mustaches and gigantic spread collars. The smell of pipe tobacco in the second act and a running joke about the revolting coffee at the corner diner enhance the show with further sensory stimulation.
Rehearsal for Murder is a classic murder mystery perfect for the intimate, 116-seat Waterworks Theatre. Showtime is 8:00 on October 16, 17, 23, and 24. Tickets, which are $10, may be purchased online at waterworksplayers.org.