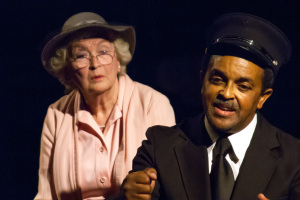 Driving Miss Daisy is a curious theatrical event.  Because of the hugely popular movie version that reprised Morgan Freeman as chauffeur Hoke Coleburn and featured Jessica Tandy as the redoubtable Miss Daisy—the role for which, at 81, she finally won a well-deserved Oscar—many Daisy lovers have never experienced Alfred Uhry's Pulitzer Prize-winning play as a play.
Starting this weekend, that's about to change for those of us attending this latest Waterworks Players offering.  For starters, the program reprints Uhry's Author's Note:  "This play takes place from 1948 to 1973, mostly in Atlanta, Georgia.  There are many locales.  The scenery is meant to be simple and evocative.  The action shifts frequently and, I hope, fluidly."  Mr. Uhry would be happy with this production
Moffatt Evans's set functions both realistically and imaginatively.  Daisy's living room and her son Boolie's office, though suggested by only a few props each, seem "real"; the all-important car, however, is two small benches—one behind the other, thrust center stage.  It's the great miming/body language of Hoke and Daisy that make it almost a supporting character.  In a later scene, a cemetery is a single headstone.  Clint Wright's lighting design keeps us focused on what's important, and the play's twenty-two scenes (there is no intermission) are punctuated by simple fade-to-blacks.  No muss, no fuss.
The play's the thing, its story familiar even to those who have never seen Driving Miss Daisy:  an irascible, well-to-do widow; a caring but increasingly distant son; a servant who becomes the widow's "best friend."  It's also a story about a still-segregated Deep South evolving toward tentative change, and two outsiders (Daisy is Jewish, Hoke is black) bonding into almost-family as they enter old age.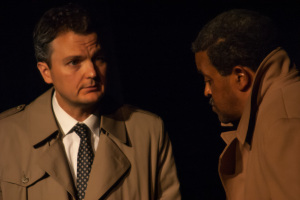 This is a three-character play.  All the other characters movie-goers might remember—Boolie's wife Francine, their children, the cook Isabelle, various neighbors—are merely mentioned here.  Everything rides on Daisy, Hoke and Boolie, and Daphne Mason, Larry ("Akin") Smith, and Charles White respectively bring them to life.  These actors have real chemistry together.
In Daisy's opening scene, where Boolie is taking his mother to task for wrecking her car ("cars do not behave—they're behaved upon"), director Dudley Sauve's blocking shows us how subtly at odds mother and son are.  In scene three, where Boolie introduces the newly hired Hoke, we see how he already seems to lean in to the resistant Daisy in a way her son doesn't:  "Miss Daisy—a gear shift is like a third arm to me."  Later, he confides to Boolie that it "took only six days [for Daisy to let him drive her]—the same time it take the Lord to make the world."
Uhry's play flirts with stereotypes and sentimentality, but in the right hands (and mouths) his dialogue sings.  It does so in this production.  Mason, White, and especially Smith have wonderful voices that capture the poetry, and the poignancy, of Uhry's dialogue.  In the final scene, for instance:  Daisy (now over ninety and suffering from dementia):  "How are you?"  Hoke:  "I'm doing the best I can."  Daisy:  "That's about all there is."  Freeze frame, as Hoke feeds Daisy a bit of Thanksgiving dinner.  Blackout.
The Waterworks production of Driving Miss Daisy runs September 19-20 and 26-27 at 8:00 p.m and September 21 and 28 at 2:00 p.m.  You can reserve tickets online and choose your seats or call 392-3452 and leave your reservation information.