by Robin Smith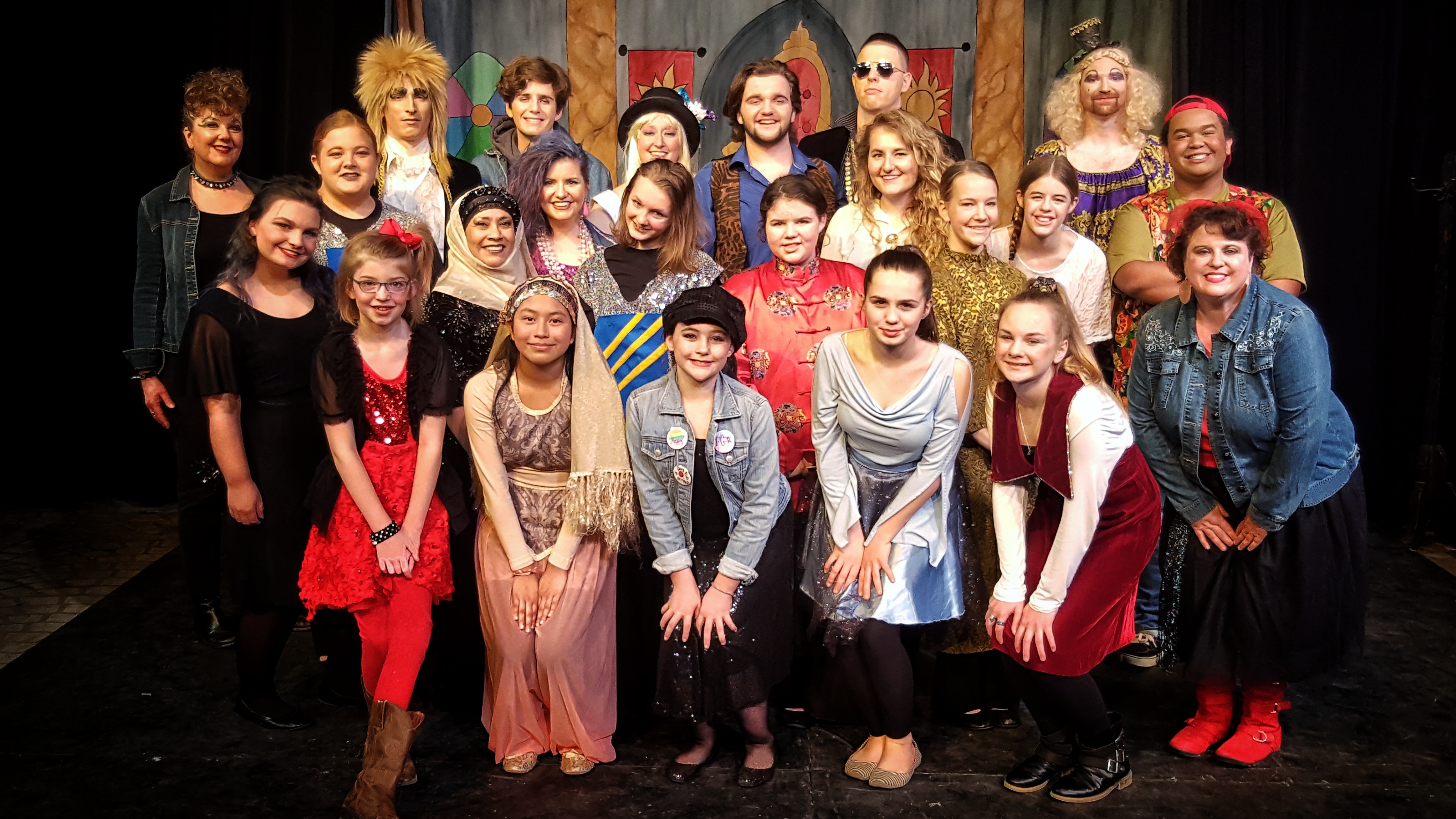 What fun! "Aladdin" was my first pantomime, but attending Waterworks' annual holiday panto is going to become a new tradition to share with my grandchildren. The audience first spies a cartoonish market scene washed in delicious rainbow sherbet colors. Since "Aladdin" is based on a Middle Eastern tale from the "Arabian Nights," of course, it is Scheherazade, played by an appealing Ava Janowski, who invites the audience to share in this magical world opening before us. And we do share in this performance! We already know the plot that will unfold, but in this production directed by Mary Jo Stockton and produced by Don Blaheta, we become part of the story.
Early on, Wishee Washee (Krishon Preston) enlists the audience in a running gag that involves shouting "Old Bag" at unsuspecting characters! And all of us—ages 3 to 80—joyously do just that. We boo the villains, offer advice to the good guys, chime in on on-stage conversations, join in the singing and dancing, and catch any chocolate "coins" tossed our way. When Widow Twankey pretends that she can't see the audience, we participate in forcing her to admit we're there. One of the finest performances is by Sherri Davenport as Jennie, the Genie of the Ring—as in big gaudy, bejeweled ring as well as a telephone ring. Her use of Twitter hashtags and her habit of putting Aladdin on hold for customer service make us laugh and groan almost as much as her hilarious gestures and facial expressions. Other contemporary references and local and topical humor (including good-looking Hampden-Sydney guys, Kanye West, Prince Harry, Mottley Emporium, and Harry Styles) are a constant surprise and delight.
Kudos to the Costume Design Wonder Twins, Hannah Boswell and Erika Evans! The costuming is both entertaining and purposeful. Aladdin (Elijah Logue) and Princess Jasmine (Kolby Grimsley), love interests who are above the silliness exploding around them, are dressed in normal street clothes. This contrasts with the gold, jewels, bling, and electric hair that contribute to the '80s vibe and add magic to most of the costumes. The villains look like renegades from the set of "Pirates of the Caribbean" or "Mad Max" via '80s MTV. Because of the precise combination of costume, set, and lighting, scenes can be quite dramatic, like the one when the villain—wearing white, black, and gold—stands against a black background explaining his evil intentions as his shock of white hair spikes up with an eerie glow.
The acting is as engaging as the costumes. Greg Tsigaridas plays the evil Abanazar with mesmerizing oily villainy and a David Bowie-gone-amuck look. His evil henchman Shish (Leigh Lunsford) is so relentlessly manic a muscle under her eye twitches! Shawarma (Christian Huggard) is a Fonzie-esque greaser. The Ladies in Waiting, the Chorus, and PC King Fu and Officer Tai Chi bring new young talent to the stage. Patricia Carter is a regal but sly Sulteen. Kolby Grimsley's dance talents are clearly wasted being a princess. The Genie of the Lamp (Pam Wright) has an expressive face to watch.
The real scene-stealing comes from John Burton as the Widow Twankey. The "Dame" role, an older woman clearly played by a man, is a staple of pantomime. I see why. There is something seductive about watching her make a fool of herself. Encased in a skin-tight red and black dress, the widow balances precariously on what look like 8-inch gold lamé platform heels. Unfortunately, the "Dame's" beard repels the men she pursues so persistently.
The slapstick comedy and word play make us giggle out loud. Abanazar constantly calls out to his sidekicks, "Shush, Shish and Shawarma!" (The repetition of "sh" is irresistible, but is the cast also aware of the Shawarma Shack in the Fan that serves great Lebanese food? And how many other local and topical references did I miss?) Widow Twankey makes us laugh until we cry: "Where is the underwear? Under where? Underwear—under where?" she asks. Later she announces that she's "a little behind" while waggling her skinny rear at us. Her bawdy jokes fly over the kids' heads. The adults get it.
The cast and crew are too large to mention all by name, but they have put together a raucous, feel-good, silly, interactive entertainment that will become part of my holiday tradition. Show times are Friday, December 8 at 7 p.m. and Saturday, December 9 at 2 and 6 p.m. Tickets are just $5. Remember that last year's pantomime sold out, so get your tickets soon. Tickets may be purchased online. When you purchase your tickets, you can select your own seating. Don't miss this show!