Please note that the playwright, Bo Wilson, will now be attending the Saturday, February 18th performance. It was initially advertised that he would attend Friday, February 16th performance. We apologize for any inconvenience. If you would like to switch your tickets, please email info@waterworksplayers.org or call 434-392-3452.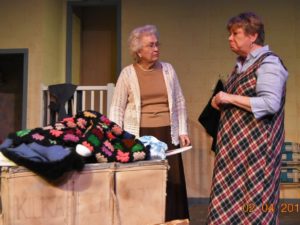 The Charitable Sisterhood of the Second Victory Church, the Waterworks Players' upcoming production, is in many ways a home-grown affair.  Playwright Bo Wilson, the author of more than 40 plays, is a Richmond native.  The Charitable Sisterhood is set "just outside Pennington Gap, Virginia."  And among the all-woman ensemble cast are longtime Waterworks veterans Martha Womack and Daphne Mason.
Mason and Womack have appeared in a slew of Waterworks productions over the years, and in four—Arsenic and Old Lace, Kitchen Witches, Vanya and Sasha and Masha and Spike, and now Charitable Sisterhood—they play foils who, as the Bard would put it, "stick fiery off indeed."  Womack is Larraine Jenson, a 40-ish mother of "nine children, at last count"; Mason is Bea Littleton, in her "late 40s to early 50s, the wife of Pastor Hiram Littleton and happy to let you know it."  Neither one of these actresses "of a certain age" is in her 40s.  When I brought this up in a recent interview, Mason chuckled.  "In Arsenic and Old Lace all those years ago, I played a dotty old broad who's doing a 'service.'  The only time I feel old is when I look in the mirror."
"Even though the playwright has written women with certain ages, these women are ageless," Womack added.  "It's fun to be Lorraine.  I have just one child, but as a teacher I feel like I have nine kids—and more.  Doing this play is my escape. Just like dealing with this church bazaar is an escape for Lorraine."
"I've been working on church bazaars all my life," Mason said.  I was once in charge of a group of ladies much older than I, and it was only after we came back from a Pottery Barn run that we surveyed all we'd bought and I said, 'What are we going to do with all this junk?'"
For both, The Charitable Sisterhood is a "fun" play to be in.  "We're highly opinionated—in this play and in real life," Womack said.  "That's one reason it's so much fun."  "And there's definitely a lot of Southern humor and localized vernacular," Mason added, noting how Charitable Sisterhood  casually interfaces its five women characters.  "They're casual, laid back; but there are serious issues, too."
When I asked them what was the most difficult aspect of Wilson's play, they answered in unison.  "All those lines," Mason said.  "I'm an old broad, and learning them isn't easy.  And, all five of us are onstage most of the time."
"Yeah, all those lines—for everyone," Womack echoed.  "We hit the stage and we just keep going.  One good thing:  there are no costume changes.  But we have lots of props, and they have to be strategically placed in that "bazaar pile" to mesh with our lines."  "Poor Dudley has had to work hard with logistics—both props and people," Mason laughed, just as director Dudley Sauve showed up to usher them into rehearsal.  "They're doing a d—ed good job," he said.
The Charitable Sisterhood of the Second Victory Church runs February 9th, 10th, 16th and 17th at 8 p.m.  For ticket information, go to the Waterworks website, www.waterworksplayers.org/buytickets, or call 392-3452.