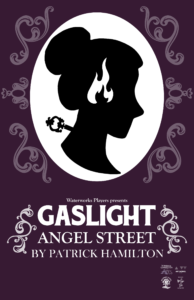 The Waterworks Players is holding auditions on March 4th and 5th for its April production of Patrick Hamilton's Gaslight (Angel Street).
A Broadway hit first produced under the title Angel Street and twice made into a film as Gaslight, Gaslight tells the story of the Manninghams, who live in 19th century London. As the production begins, all appears to be the essence of Victorian tranquility. It turns out that the suave Jack Manningham is slowly tormenting his wife, Bella, into insanity under the guise of kindness. Soon, Bella is visited by a Scotland Yard inspector, Rough. He convinces her that her husband is not the gentleman he appears to be, but a man hiding secrets from his past. Bella gains confidence in herself as she and the inspector work together to build up evidence against Jack.
Don Blaheta will direct the production that gave rise to the term gaslighting, which is now defined as "a form of psychological abuse in which false information is presented to the victim with the intent of making them doubt their own memory and perception."
We are seeking 5 actors of various ages for the following roles (character ages are approximate):
Bella Manningham.  The central character in this drama has a haggard, wan, frightened air, with rings under her eyes, which tell of sleepless nights and worse.  Character age is late 20s to late 30s.
Jack Manningham.  Bella's husband is suave and authoritative, with a touch of mystery and bitterness.  Character age is mid 30s to mid 40s.
Inspector Rough.  He is wiry, active, brusque, friendly, overbearing. He has discovered some secrets and decides to pay the Manninghams a visit.  Character age is mid 40s to 60s.
Elizabeth.  The older of the Manningham's maids is an amiable woman, subservient but very loyal.  Character age is mid 30s to 60s.
Nancy.  The Manningham's other servant is a self-conscious, pretty, cheeky girl.  Character age is 19.
Auditions are Sunday and Monday the 4th and 5th, at 7:30. There will be cold readings from the script. Performances are April 13, 14, 20, and 21 at 8 pm.
Patrick Hamilton's Gaslight is produced by special arrangement with Samuel French, Inc.
For more information about this production or to volunteer, contact the Waterworks Players at 434-392-3452 or info@waterworksplayers.org.