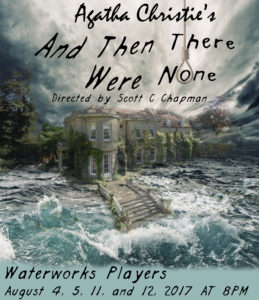 The Waterworks Players is holding auditions on May 7th and 8th for its August production of And Then There Were None. Written by Agatha Christie originally as a novel, And Then There Were None is a celebrated murder-mystery thriller that has sold over 100 million copies globally, made into numerous film adaptations, and produced as a stage play. 
Scott C Chapman, in his Waterworks Players debut, will direct the production, with Longwood University Alumna Caitlin Mazura as Assistant Director. This is a story of ten guilty strangers trapped on an island in the early 1940's. One by one they are accused of murder, and one by one they start to die. Will they solve the crime before it's too late, or succumb to this diabolical avenger?
We are seeking 11 actors of various ages for the following roles (character ages are approximate):
Narracott – The boatman or woman. Can be male or female, (20's-60+). We are looking for this person to also be the Assistant Stage Manager.
Rogers – (male) mid-40's, Competent, middle-aged manservant. Not a butler but a house-parlourman.
Mrs. Rogers – (female) mid-30's, She is a thin, worried, frightened-looking woman.
Vera Claythorne – (female) mid 20's, She is a good-looking girl of 25.
Philip Lombard – (male) mid-30's, He is an attractive, lean man of 34, with a touch of adventurer about him.
Anthony Marston – (male) early 20's, He is a good-looking young man of 23 or so, Rich, spoiled – not very intelligent.
William Blore – (male) mid-40's, He is a middle-aged, thickset man, wearing rather loud clothes and is giving his impression of a South American gold magnate.
General Mackenzie – (male) 60+, He is an upright soldierly old man, with a gentle, tired face.
Emily Brent – (female) mid-50's-60, She is a tall, thin spinster, with a disagreeable, suspicious face.
Sir Lawrence Wargrave – (male) 60+, He is an older man, a seasoned judge, with a lot of life experience behind him.
Dr. Armstrong – (male) mid-40's, He is a fussy, good-looking man of 44, he looks rather tired.
Auditions will be held at 7:00 pm on Sunday and Monday, May 7th & 8th at the Waterworks Theater. There will be cold readings from the script. In addition, we need a number of stagehands to assist during technical week rehearsals and the four public performances.
The show runs August 4, 5, 11, & 12 at 8pm. There will be a read-thru with the cast mid-May and rehearsals will begin June 19.
Agatha Christie's And Then There Were None is presented by special arrangement with SAMUEL FRENCH INC.
For more information or to volunteer, contact the Waterworks Players at 434-392-3452 or info@waterworksplayers.org.