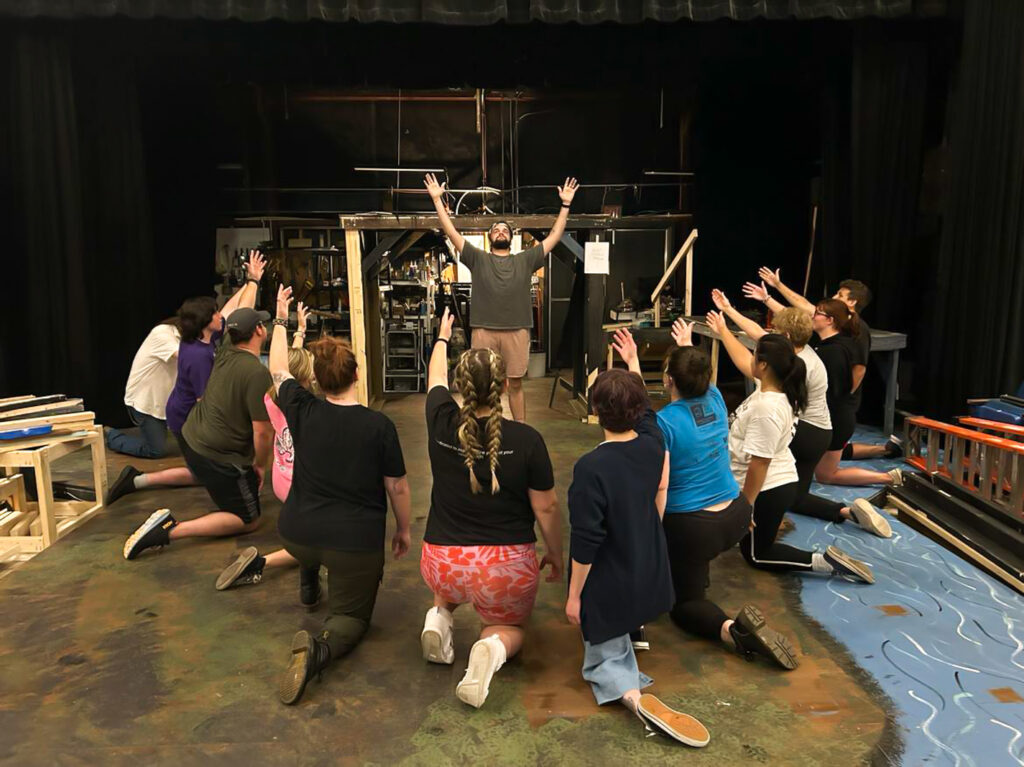 Something old, something new, something brought back: The Waterworks Players' 2023-24 season will feature some of each of these.
Godspell will kick the season off in mid-October, the first time this well-loved musical will appear on a Waterworks stage. "I love Jesus, and I absolutely love the story," director Kolby Logue said. "It's a story of hope, life and love, and it's a super audience interactive show. I've wanted to direct this show for years." The cast list for Godspell includes Elijah Logue as Jesus and Jamie Day in the dual role of John the Baptist and Judas. The supporting company comprises Maurice Ellis, Sarah Varela, Deborah Westin, Gregory Gibbs, Teagon McKinny, Maya Hoffman, Anna Stinson, Kolby Logue, Ellis Parker, Reeves Laroche, and Sarah Reynolds.
The December panto will be Puss N' Boots, and it checks all of the above boxes. "I'm not 100% sure why, but I wanted to do a fairy tale we'd not done, or at least not done for a long time," veteran panto director Mary Jo Stockton said. "'Puss' was the very first panto Waterworks did, in 2007. Dudley Sauve directed it. It wasn't quite as slapstick and colorful as the later shows have become. This version will have a different script from the one Dudley used. This year will be our sixteenth panto; the only year we missed was 2020, when we did an online version of "A Christmas Carol."
The first show for 2024 in February will be The Vagrant, by local playwright Brett Hursey. Though many of Hursey's comic ten-minute plays have appeared in Off-Broadway and other venues nationwide—including Small Doses, a seven-play medley on the Waterworks stage—The Vagrant is a full length, two act play with both comic and serious moments. Greg Tsigaridas, a familiar face on the Waterworks stage, had multiple roles in Small Doses, one of the main reasons he is an eager first-time director for this play.
April's show will be a classic Waterworks staged several decades ago: Tennessee Williams's Cat on a Hot Tin Roof. This Pulitzer Prize winner, Williams's second, will be directed by Sean Dowse, a new Waterworks Board member with vast prior experience who has long wanted to direct this play. "Cat on a Hot Tin Roof gives us characters whose very names have become larger than life: Maggie the Cat, Brick, Big Mama, Big Daddy. Williams's language is gorgeous–Southern, pitch perfect, full of laughter and danger both," said Craig Challender, a member of Waterworks' play reading committee. "Cat deals with marriage, mortality, mendacity—a serious play you can't stop watching."
In August, Leigh Lunsford will make her directing debut with Five Women Wearing the Same Dress, a comedy by Alan Ball that will be Waterworks' final play of the season. "Five Women is a perfect fit for our audiences," said Don Blaheta, the play reading committee chair. "This 1993 play features five bridesmaids in their twenties, all very different from each other, who are trying to avoid the large, boring wedding reception outside. It's definitely funny, but touches on serious issues as well. It's a wonderful vehicle for five younger actors. The dialogue is spot on, witty and poignant by turns." This year's Waterworks lineup is a great reason to take in a play—or five—this year. There's something for everybody.