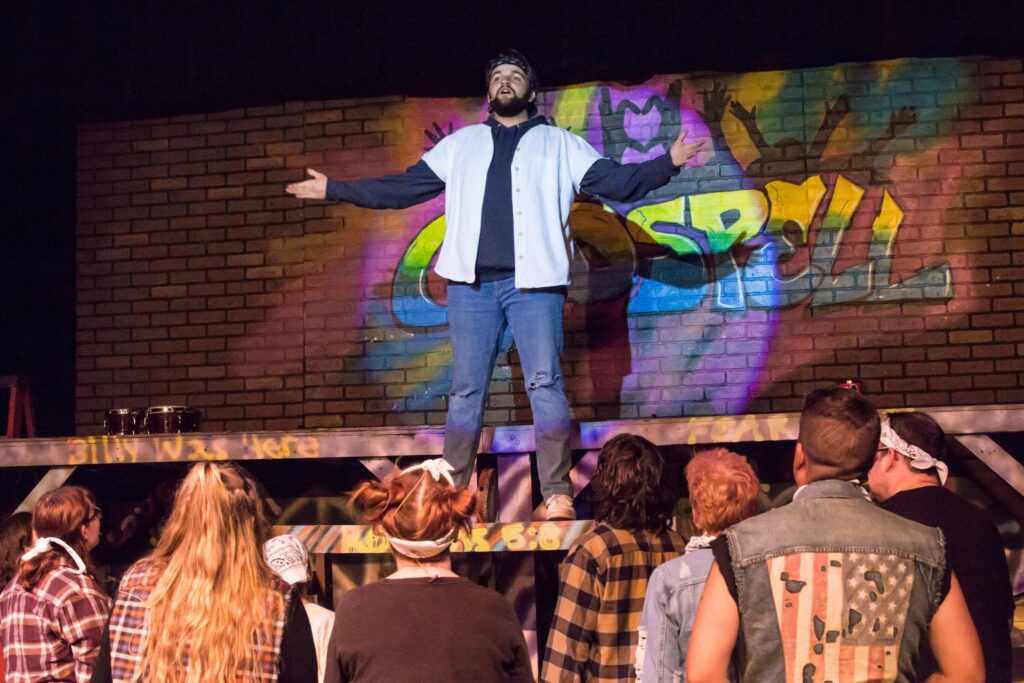 As I walked into the Waterworks theater on the evening of Thursday, October 12, I was greeted by enthusiastic cast members who welcomed me and made me feel like my presence was somehow an important part of the upcoming experience. Once I found my seat, I saw cast members interacting with the audience and on stage talking to one another as though they had been there all day waiting for an audience to arrive. I was lucky enough to see the preview performance of Godspell with a small audience of friends and family.
The Waterworks Players in Farmville VA is presenting Godspell for one more weekend in October. Free up some time on the evenings of October 20 or 21 (8pm) to be a part of this exciting theatrical event. This is Waterworks' first live musical in three years.
Godspell, with a book written by John-Michael Tebelak and songs by Stephen Schwartz (Pippin, Wicked) is an evening full of great songs, engaging storytelling and a powerful message. The actions of Godspell are based on Jesus' parables told in the Gospel of Matthew as well as the Passion story (the final days of Jesus' life). The song lyrics are based on familiar biblical passages as well as hymn lyrics from the Episcopal hymnal.
The off-Broadway premiere of Godspell was in May 1971, just five months before the Broadway premiere of Jesus Christ Superstar. These two strangely similar musicals have lived parallel lives since then. They each had film adaptations in 1973 and both remain hugely popular among theatergoers. Jesus Christ Superstar tells the story of Jesus, Judas and the other disciples in the days leading up to the crucifixion with a musical idiom that seems to pull the audience into the past. Godspell on the other hand is successful in making the events told on stage relevant to you as you watch them.
Godspell imagines Jesus and friends in a modern time, taking turns retelling the parables. The show itself is written in a way that pulls down the fourth wall between the stage and audience so that the lessons are told to the audience in a more immediate way. This production, directed by Kolby Logue, pushes that idea to the point where you will be wondering whether you are a part of the performance.
On the stage of the Waterworks theater was a minimal set. Brightly colored, spray-painted graffiti on a brick city wall behind scaffolding and ladders which allowed the cast to move about the structure to numerous interesting levels.
The songs of Godspell are frequent and very enjoyable. Most audience members will know many of these songs and may feel compelled to (quietly) sing along with the refrains. If you don't know the songs already, you're in for a treat. Composed more than fifty years ago, these songs still feel fresh and contemporary. The songs are connected by Jesus' parables told in monologues or dialogues. Sometimes they are said by Jesus alone. In others, cast members tell the stories and invite their castmates to join in as characters in the parable. Each of these stories within the musical is told in a distinctive manner. Some feel like old vaudevillian sketches, in some the cast improvises, some are infused with references to contemporary headlines and cultural events, or even with audience volunteers. Many are told with humor; some are more serious in tone.
The line between audience and cast was continually blurred as was the line between the drama on stage and the life we live every day. At intermission time, Jesus invited the audience to come on stage and share some beverages. The cast members remained visible throughout the intermission and continued to interact with the audience.
All of this wasn't simply to create an immersive experience – which it was – but to make clear that the message of the show was for us in the audience. The songs, choreography, singing and acting were all wonderfully entertaining, but at the end of the evening the most important thing is the message that the responsibility of the community is to continue to teach Jesus' lessons. Logue's direction and interpretative choices all worked toward this understanding and that I believe is successful theater.
Only two of the players in Godspell are given character names: Jesus (Elijah Logue) and John/Judas (Jamie Day). The other eleven actors, listed simply as "company" in the program, are sometimes even called by their real names on stage or they are playing characters in the various stories that they tell. Elijah Logue has a singing and speaking voice that is warm and inviting. There is ease in his approach to singing throughout his range that offers comfort to listeners, as one might hope the voice Jesus would have. Jesus's songs in the second act showed off a more dramatic side of Elijah's voice that was equally compelling.
Jamie Day, as Judas communicated depth and darkness in his role as he tried to understand Jesus' words and actions. All members of the cast were given opportunities to share their singing talents. Maurice Ellis sang pleasing renditions of "All Good Gifts" and "We Beseech Thee" and through his work as music director for the production, the many ensembles of the show, such as "Day by Day" and "By my Side," came off successfully. Other highlights included Ellis Parker's joyful singing of "Learn your Lessons" while accompanying herself on the ukulele as well as Sarah Reynolds soaring voice and Sarah Varela's playful interpretation of "Turn Back." Many songs such as "All for the Best" and "Light of the World" had fun and pleasing choreography.
This production welcomed new players to the Waterworks family: Jamie Day, Maya Hoffman, Ellis Parker, Sarah Reynolds and Deborah Westin. If you've been to see some Waterworks shows in the past few years you'll be happy to see Elijah Logue, Maurice Ellis, Gregory Gibbs Jr., Reeves La Roche, Kolby Logue, Teague McKinney, Anna Stinson and Sarah Varela.
With a fifteen-minute intermission, the show runs just under two hours. Make a point to buy tickets and see the show and to be a part of this exciting musical, dramatic and spiritual experience.